---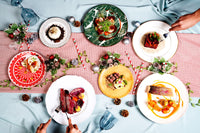 Celebrate your Christmas in style.

This December, celebrate the seasonal festivities with your friends and loved ones at the Arca and indulged in a beautiful feast with our bespoke menu from 23rd – 26th and 29th to 30th of December, 2023.
Our executive chef and his team of culinary experts designed an exquisite four-course menu to delight you and your loved ones, beginning with an appetizer pairing of seared Hokkaido Scallops with Mentaiko dressing, and a Tuna Tataki with Wasabi Yogurt Dressing that is paired with Avocado, Edamame and Egg Salad.
A creamy Festive Soup is served as a preview of what's to come with the main course, chosen from a selection of four decadent entrees: A Grilled Angus Hanger Steak, Braised Beetroot and Potatoes with Red Wine Reduction, or a Pan-fried Salmon Fillet, Fondant Potatoes with Chestnut Pumpkin Sauce, or Roasted Stuffed Turkey Roll,Glazed Carrots and Potatoes with Caramelized Onion Gravy, or finally a Festival Vegetables Gratin with Truffle Cream Sauce. To round out this wonderful culinary journey, our pièce de résistance is a creamy Hokkaido Sesame Cheese Cake with Hojicha Glazed sauce 
This unforgettable Festive dinner will be available for booking at HK$588 per head, and an optional festive free-flow package add-on for HK$198 per head.

book today and receive an EARLY-BIRD 20% discount that is valid until 10th of December! (Price indicated below is inclusive of discount)
Explore our Festive Dinner Menu.

-----
於Arca Society享受充滿節日氣氛的餐饗體驗。
為慶祝聖誕節,主廚匠心製作了四道菜的聖誕盛宴,讓您與摯愛歡度獨一無二的時刻。聖誕晚餐的首兩道前菜滋味無窮,明太子醬烤北海道帶子口味清新鮮美,再配炙燒吞拿魚配山葵乳酪醬, 牛油果枝豆蛋沙律。接著,為您送上自家烹調的節慶濃湯。主廚精心預備了一系列的節慶美食供客人選擇,營造最佳的享受。「香烤牛柳」以美國極佳級封門牛柳烹調而成,先輕煎牛柳保留鮮味,再淋上自家製作的紅酒汁,惹人垂涎。另一推介是聖誕必備的「烤火雞卷」,以迷迭香醃製火雞肉,再配甘筍,馬鈴薯及焦糖洋蔥汁,增添層次感。晚餐最後以芝麻芝士餅配焙茶醬作結,讓今年的聖誕節更難忘!
現在預定即可獲得早鳥優惠,享受20%的折扣!優惠期至12月10日。
立即預訂,一同分享節日的喜悅。

日期和時間:12月23日至26日及29日至30日 , 6 – 10 p.m.
價錢: 成人每位港幣$588, 長者(65歲以上) 每位港幣$488及小童(3至11歲) 每位港幣$188 - 每位港幣198升級至兩小時節日任飲套餐
地點:Arca Society 3樓
查看菜單
Terms & Conditions
Prices listed include 10% service charge.
All redemptions are subject to availability. Two days advance orders are required.
This offer cannot be used in conjunction with any other promotional offers. 
All orders are subject to payment confirmation and availability.
Offer can be redeemed once. No refund, amendment or cancellation will be honored upon order confirmation.
Arca Society reserves the right to terminate or change the details of the offer without prior notice and final discretion in case of any dispute.
條款及細則
價格已包含加一服務費

。

所有兌換均視餐廳供應情況而定。需提前2天預訂。
不能與任何其他推廣優惠同時使用。
所有訂單需視乎供應情況而定及以確認付款後為準。
優惠只可兌換一次。訂單確認後不接受退款、更改或取消。
如有任何爭議,

Arca Society

保留終止或更改優惠詳情的權利,恕不另行通知。